Road to Recovery Walk (R2R)
Please welcome Team R2R's participants in this year's Road To Recover Walk today Sunday September 17, 2017 at 5PM (1700) at the Kanata Legion at 70 Hines Road, Kanata, ON. The Kanata Legion will be hosting a BBQ for Team R2R after completing their 150km for 150 years march from Petawawa to Ottawa, over several days, to raise awareness and fund for "Operation: Leave the Streets Behind" – Veterans facing homelessness. Come join us to welcome and congratulate them on their great achievement.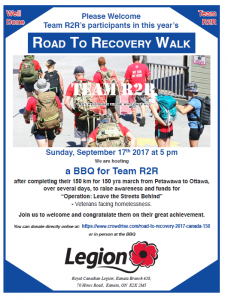 Get on Board with RCSCC Centurion!
Royal Canadian Sea Cadets learn about the naval and maritime environment by participating in a variety of activities on and off the water.
Sea Cadets specialize in sailing, seamanship, ship-boarding life, naval communications, power boat handling, boat repair, and marine engineering. Selected senior cadets have the opportunity to attend international exchanges, to sail aboard a Tall Ship or participate in ship deployments aboard Canadian Navy and Coast Guard ships. Additionally, Sea Cadets can compete for a chance to participate in annual sailing regattas!
Sea Cadets also participate in ceremonial events and citizenship activities that allow them to connect to their Canadian naval heritage.
The hands-on activities, exciting challenges and leadership opportunities for Sea Cadets are many. Canada's motto, A Mari usque ad Mare ("From Sea to Sea") can be applied to Sea Cadets. With Sea Cadet Corps found all across the country, and given Canada's abundance of water and shoreline, the opportunities are many, whether inland or on either coast. You are bound to observe a Sea Cadet making a splash somewhere, from sea to sea!