HMS Centurion (1774)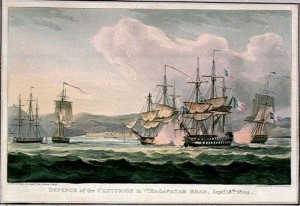 HMS Centurion was a 50-gun Salisbury-class fourth rate of the Royal Navy. She served during the American War of Independence, and during the French Revolutionary and Napoleonic Wars.
During the war with America, Centurion saw action in a number of engagements and supported British forces in the Caribbean and the North American coasts. Spending the period of peace either serving as a flagship in the Caribbean or laid up or under refit in British dockyards, she was recommissioned in time to see action in the wars with France, particularly in the East Indies.
Her most important action came in the Battle of Vizagapatam in 1804, in which she fought against the French squadron of Contre-Admiral Charles-Alexandre Durand Linois that consisted of a 74-gun ship, and two frigates. Despite sustaining severe damage, she continued fighting, and survived the assault by the considerably heavier forces.
Returning to Britain shortly afterwards, she was refitted and transferred to Halifax, where she served as a hospital and receiving ship for the rest of her career. She sank at her moorings there in 1824, and was raised the following year and broken up, ending 50 years of Royal Navy service.
Courtesy of: http://en.wikipedia.org/wiki/HMS_Centurion_(1774)
HMS Centurion (1892)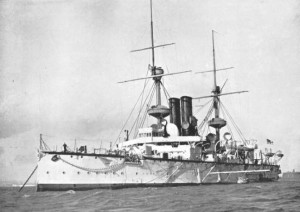 HMS Centurion was a predreadnought second­class battleship of the Royal Navy. She was part of the two-ship Centurion class, designed for long-range patrolling of the United Kingdom's far-flung empire. She entered service with the Royal Navy in 1894, and was assigned to the China Station as its flagship. She supported Allied operations during the Boxer Rebellion and, apart from a period of refitting and rearming at Portsmouth from 1901 to 1903, remained in the Far East until 1905. Returning to England, she was part of the Home Fleet until 1909, at which time, outclassed by the dreadnought class of ships which began appearing from 1906, she was decommissioned and put up for sale for scrap.
Courtesy of: http://en.wikipedia.org/wiki/HMS_Centurion_(1892)
HMS Centurion (1911)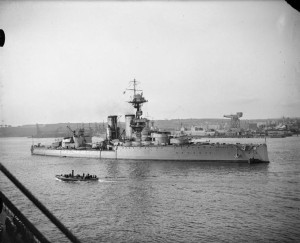 HMS Centurion was the second battleship of the King George V class, built at HM Dockyard, Devonport. The battleships of the King George V class had been designed as dreadnought battleships. The King George V-class battleships were a series of four Royal Navy super-dreadnought battleships built just prior to and serving in the First World War. The King George V class immediately followed the Orion class upon which they were based.
Courtesy of: http://en.wikipedia.org/wiki/HMS_Centurion_(1911)